Telco Tester
- mobile communication monitoring robot and call generator.
---
Testing functions:
Mobile network services testing

Voice calls
Fax calls
Data calls - dialed
Data calls - packet
SMS
MMS
Automatic IVR calls

IP based services testing

POP3
IMAP4
SMTP
FTP
HTTP
HTTPS
TELNET
SSH
VoIP

Alarming
Manual testing
Periodic testing
On request testing
Correct charging testing
Tariffs testing
Mobile profile change
Statistics collection
Testing robot characteristics:
Scalable
Flexible
Portable
Reliable
Easy and fast implementation
Robot possible configurations
---
Scalable configuration
Large geografical are testing. Mobile services, VoIP calls, Internet services testing. Periodic testing with Alarming. Statistics data collection and evaluation. CDR / EDR collection and evaluation. Exchange of data with core network elements.
Connection structure:
Server

Inner network placement
Alarming to external systems
Prior test SIM card profiles change possible

Remote units

PC type - predefined scripts processing
SIP type - VoIP calls possible
MODEM type - GSM / UMTS / LTE modem connection and control
Remote units -> Server IP based communication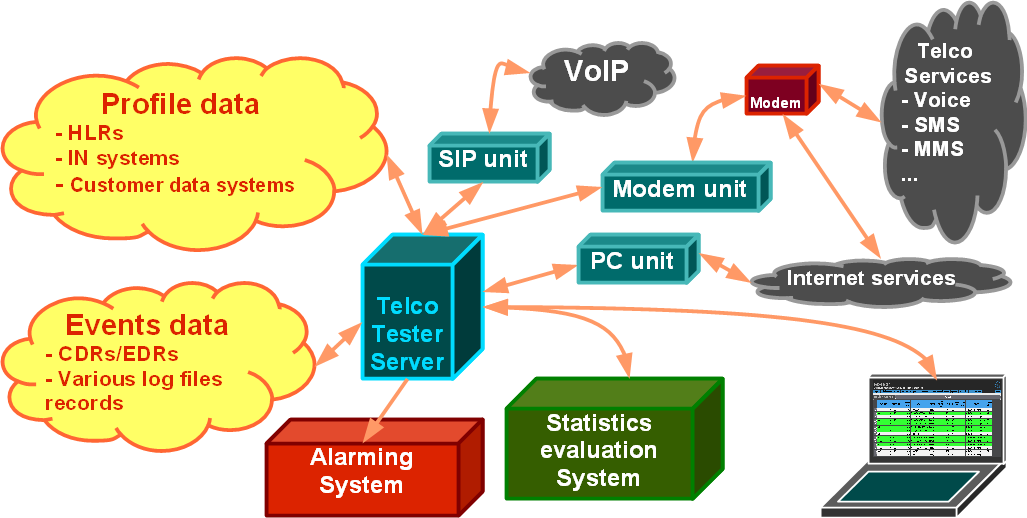 Mobile configuration
Configuration based on notebook / netbook. All in one configuration. Limited number of modems connected. Transferable to any place of need. Remote controll possible.
Connection structure:
Notebook / netbook USB flash booting or on disc instalation
Up to 4 GSM / UMTS / LTE modems connected